Which Quaranzine Social Distancer Are You?
Introducing the first issue of the Quaranzine 💕 We've been stuck inside for months on end and it has proven to be introspective for some, anxiety-fuelled for others, having extra time for loved ones or maybe you have, like me, gone through 101 rollercoasters of emotions. Whatever it is, the world coming to a standstill has been a completely new experience for all of us. Many creatives, businesses and those who still have energy have taken it into their own hands to do their bit to help those around them; this period really has been both a blessing and a curse. The world has united to fight this pandemic at the same time to the cost of hundreds and thousands of people's lives. Thankfully here in the UK, the deaths are stagnating so what better way to celebrate a hopeful light at the end of this empty loo roll tube than with some creativity!
From crafternoons to quarantines, Caitlin Wallace & Caitlin O'Farrell bring to you their first-ever issue of their Quaranzine. This cute, fun, colourful packed creative zine with games, art and laughter which has definitely lifted our mood and shaken rainbows and glitter into our hearts.
Which Social Distancer Are You?
We just checked out their quiz. I came out as Jason Derulo. HOW they knew I was riding solo and drinking wine at 9…in the morning. Anthea said she got Emma Watson – LOL.com. Which social distancer are you? Feel free to comment us your results we love comments here at Madhat Girls – no really please talk to us, we're lonely 😂
Crafternoons or Quaroutine?
Try potato painting or various other activities like…showering. Have you had your occasional shower yet? That reminds me that it's time for my monthly wash.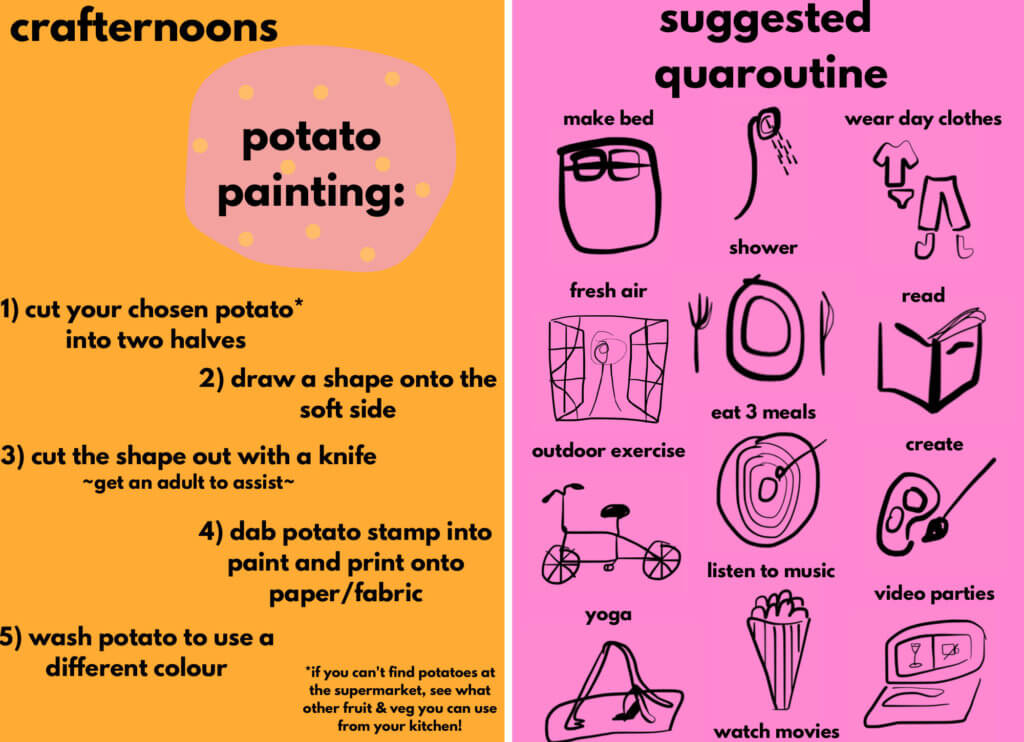 Anyways we hope that you will enjoy this zine as much as we did.
p.s Tip The Caitlins made this zine on canva.com; which is a free platform with design templates to create similar fun things. So if you're looking for something to do, want to create cool zines, graphics, design stuff and add to the fun then go check it out and tweet us your creations. You never know you may end up on our site 😎
Stay at home, stay safe and stay silly. TTYL gals!